Becoming a Digital Publishing Master with in5
Images from apps and sites created with in5.
This course will teach you how to use InDesign and in5 to create beautiful and accessible sites and mobile apps. Learn to become a master of digital publishing from the ground up by using familiar design tools.
For full course details, visit the main course page.
Lesson 16: Publishing a Mobile App
Sometimes there's just no substitute for a mobile app. Fortunately, your in5 content can easily be packaged into a mobile app. This lesson will show you the best options for creating mobile apps.
Expert Contributors to this lesson
Today's Course Outline
DIY with the Baker Framework
Push Button Power with PhoneGap Build
Additional Options
Publishing the Live App
Estimated time for lesson
Today's lesson should take approximately 25 minutes with the video.
DIY with the Baker Framework
The Baker Framework is a pre-built code library for iOS (iPhone and iPad) that helps you compile a digital book app.

Since all of the iOS coding has already been done, creating an app with the Baker Framework becomes a process of dragging and dropping settings and files.

Note: There is also an Android version of the Baker Framework. This article will focus on the iOS platform.
Exporting your InDesign layout
Once you've finished your layout work in InDesign, you can begin the export process by choosing File > Export HTML5 with in5...

The Title at the top of the export dialog is the title that will be used for the publication.

While in the Basic section, select Baker Framework (HPUB) from the Output menu.

The option tells in5 to produce all of the extra elements needed for a Baker Framework publication.

The SEO & Meta section lets you set a few other important options for your publications.
Author - This is typically where you'd put your name (or the author or publisher, if that isn't you).
Book URL - This is a unique identifier for your publication. It starts with book:// and typically includes a reversed domain (e.g., com.example for example.com) and the name of the publication.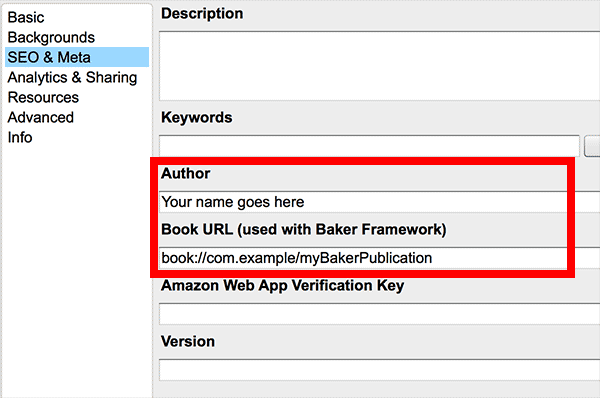 With these items configured, click the OK button to export your document.

in5 will generate a book folder that is ready to be used with the Baker Framework code library.
Creating the app
The next step is to download the latest version of the Baker Framework.

Unzip the library and copy of the book folder that you exported with in5 into the newly unzipped books directory.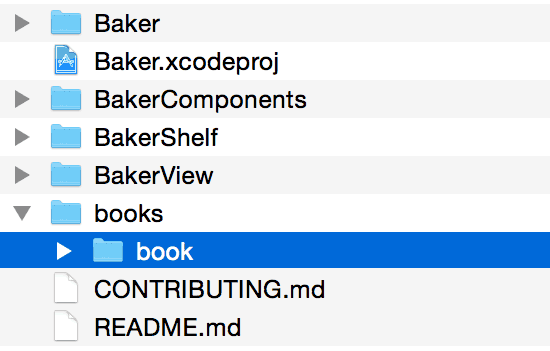 You can also remove the a-study-in-scarlet sample book that comes with the download.

Next, open the Baker.xcodeproj file with Xcode*.

*Xcode is the developer tool for Mac and iOS and can be downloaded for free.

Follow the instructions for configuring a standalone app (it should only a take a few minutes once you get used to it).

Click the Build and run button (it looks like a play button) and in moments, you'll see your app running in the iOS Simulator.

There's a video demo of all these steps with a slightly older version of the framework. The steps in Xcode have gotten simpler since I recorded that video, so make sure you're using the up-to-date steps from the Baker website.
Push Button Power with PhoneGap Build
PhoneGap is a free code library owned by Adobe that lets you package HTML into mobile apps for multiple platforms.

PhoneGap Build is a web service that does all of the packaging for you from a simple dashboard.

And it's basically free.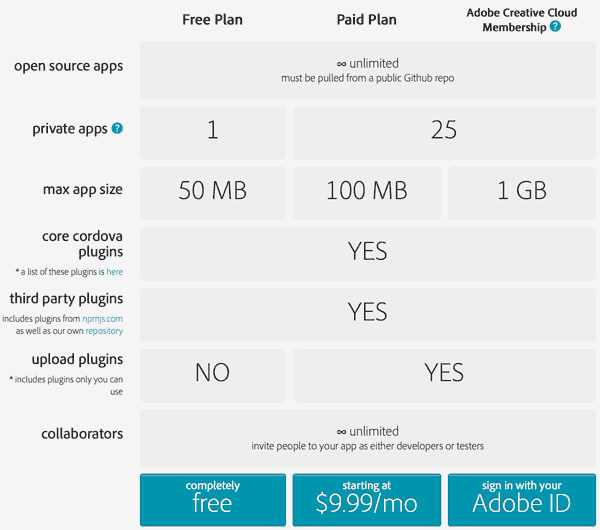 If you're already a Creative Cloud subscriber, you've got an all access pass.
Exporting your InDesign layout
You can export your InDesign document using any in5 settings that you'd like.

The next step is to create the configuration file. This can be done by hand, but it way easier to use ConfiGAP.
Creating the Configuration File with ConfiGAP
Choose the new config file option.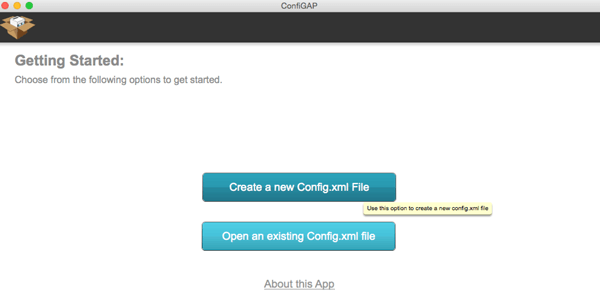 Most of the essential settings are found in the General Settings section.
Source Directory - point this to the directory where in5 has exported your content.
Application Name - give your app a name.
Application Id - typically a reversed domain (e.g., com.example for example.com) followed by a dot and the name of the app.
Application Description - this is what prospective users will see in the app store.
App Version - to keep track of updates.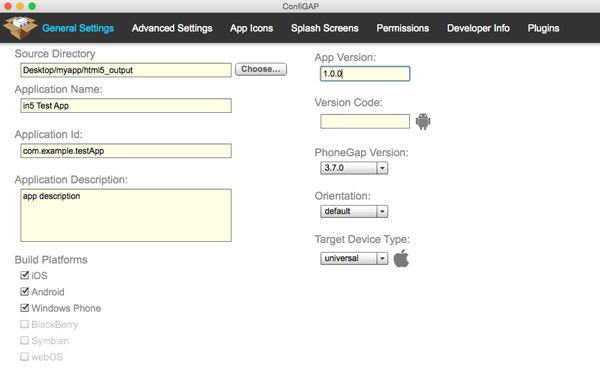 Next, you'll want to make sure you have at least a basic icon for testing.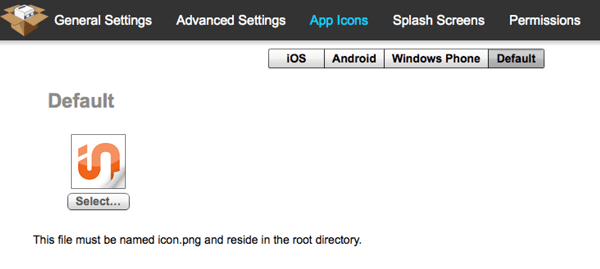 You can also set up platform-specific icons (as well as Splash Screens).

Give yourself credit in the Developer Info section.

Lastly, uncheck the Enable All Plug-ins button to remove unnecessary plugins (this makes the package much simpler).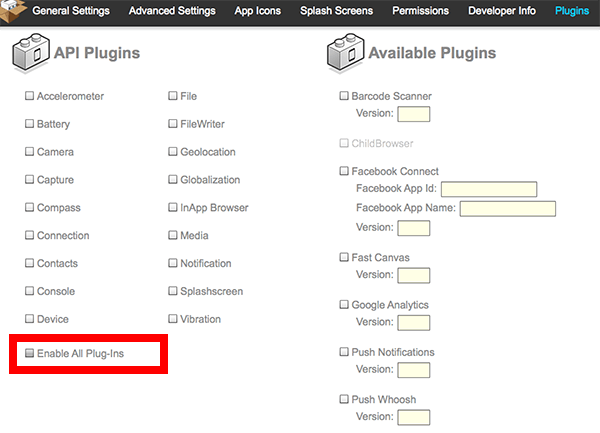 Click the Save file... button in the lower right-hand corner and save the config.xml file with your exported in5 files.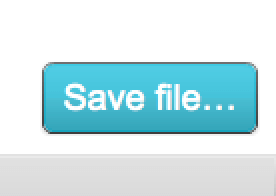 Zip the folder with the in5 files and the config.xml file into a single package.

You're now ready to upload to PhoneGap Build!
Building your app(s)
Log in to PhoneGap Build using your Adobe.com login.

Click the + New App button.

Click the Upload a .zip file button and choose the zip file that you packaged.

Your work is done!

PhoneGap Build will start packaging and let you know when your apps are ready.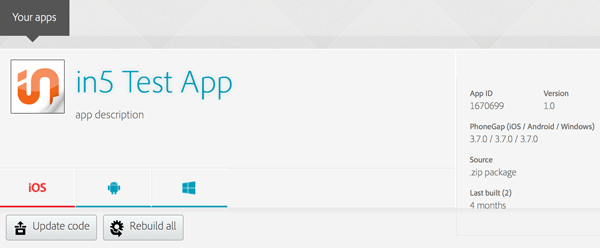 You can still make updates once the app has been packaged.
Additional Options
There are premium services that will turn your HTML5 into apps and offer all kinds of neat extras.

These services seem to come and go, but Paperlit is one of the better options at the time this article was last updated.

Amazon also has a super easy solution. Just upload your files and Amazon does all the app creation work. More info is available in this article.
Publishing the Live App
With all of the options discussed in the lesson today (other than Amazon), we've covered the steps to get your apps packaged.

There are a few extra steps to get your apps published in the app stores.

In most cases, you'll need a code-signing certificate that identifies you (or your company) as the publisher of the app.

To get the code-signing certificate, you'll need to sign up for a developer account with Apple and/or Google.
Take Aways
There are several ways to make mobile apps without learning to code.
Baker Framework is a free do-it-yourself solution for iOS.
PhoneGap Build lets you package all kinds of apps.
There are some great ways to publish mobile apps without learning to code