The Motion Editor in Flash Pro (introduced in Flash CS4) was great for making precise tweaks to complex animations, but it was a huge panel to manage.
When the Flash Pro team re-wrote the updated code for CC, they had to make some tough cuts, and one of them was the Motion Editor. So, the Motion Editor has been removed in Flash Pro CC.
For this reason, EaseCaddy is the first extension that we've repackaged and submitted to the new Adobe Exchange for use with the new Creative Cloud products. EaseCaddy lets you save, apply, export, and import custom eases (which make animations beautiful and believable).
The EaseCaddy download is now a zip file that contains an EaseCaddy.mxp file as well an EaseCaddy_cc.zxp file.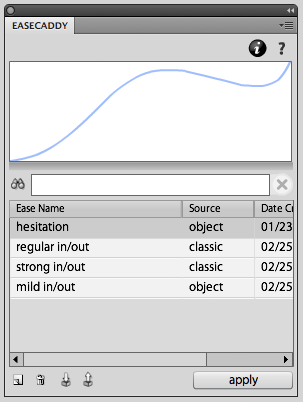 EaseCaddy can be installed in older versions of Flash (all the way back to Flash CS3) and used to export custom eases (both classic and newer motion tweens). EaseCaddy can also now be installed with Flash Pro CC, and used to import the custom eases.
EaseCaddy is completely free to use, unless you want to apply an ease to multiple tweens in a single click, then a Pro license is required.
Happy tweening!
Get updates from Ajar Productions
Sign up today and get the InDesign Split Text premium extension for free!
Short URL:
http://ajar.pro/blog/?p=1652