in5™
Now with Animation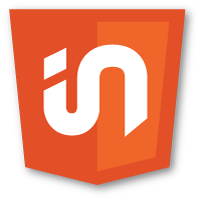 Take your designs straight from InDesign to HTML5
Easy to use. Easy to deliver.
Open Format | Universal Format | History | How in5 works | Features | Compare
Open Format
When we say open format, we mean open format. The HTML5 files that are produced are yours to keep and modify as you please. The files are exported to your hard drive just like a PDF or a SWF. You can then post your files, zip them and email them, or package them into a mobile app. Unlike a PDF or a SWF, you can easily open and make changes to the HTML5 files without re-exporting them.
---
Universal Format
With in5, you can export your interactive content to any desktop or mobile device.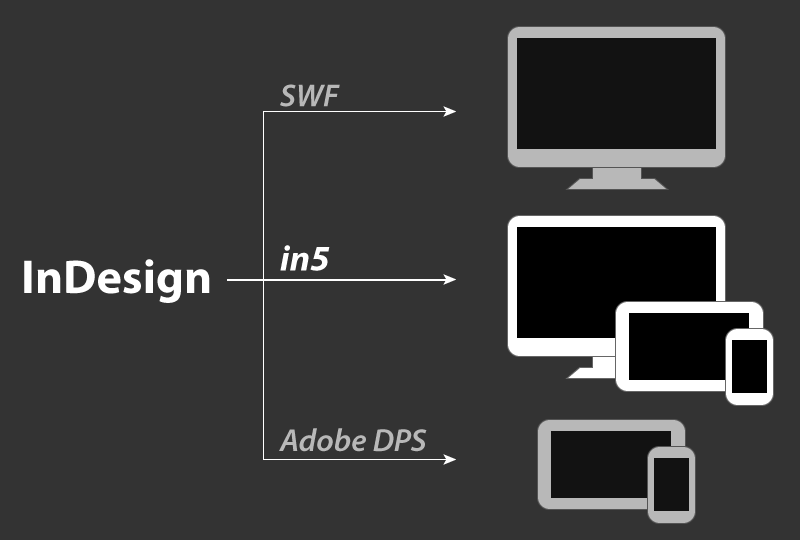 in5 can also help you deliver internal apps, marketing materials, and drafts for client review without the need to go through an app store or purchase a developer's license.
---
History
If you're like many designers we know, you're able to produce some fantastic designs using InDesign. More and more, clients are asking for digital projects like HTML5 websites and mobile apps. Unfortunately, there hasn't been an easy way to translate your designs into web and mobile experiences.
That's why we launched in5 as a crowd-funded project on Kickstarter. Within 30 days, 238 people pledged money to support our project because their needs weren't being met by the existing tools. We think there are more people out there with those same needs...and now we have a tool for them!
---
How in5 works
Select the desired settings.

Let in5 do the work.
---
What about the existing HTML export?
As one InDesign guru put it, "InDesign's HTML export is designed to extract content, not geometry." The images below contrast results of the default HTML export in InDesign with the results of the in5 exporter.
Give in5 a try for free and see for yourself.
---
in5 Features
Six different Page Format options
Text can be rendered as HTML, images (to preserve appearance), or SVG (preserve appearance and scaleability)
Swipe Navigation

Video embedding (Flash fallback as well as automatic multi-format fallback for maximum capability)
Audio embedding (with fallbacks and controls)
Ability to assign a Viewport Zoom setting for mobile devices
Export to specific formats like Baker Framework, Liquid State, iPad Web App, and iPhone Web App
Support for Folio Overlays: Slideshows,Web Content, Image Sequence, and Pan & Zoom, and Scrollable Frame
Web-safe fallback fonts are automatically generated
Support for embedding local OTF and TTF fonts
HTML and CSS output supports columns, paragraph rules, bullet lists, numbered lists, and anchored images
Offline application caching
Embedding of HTML (such as YouTube, Vimeo, or Google Maps)
The ability to create "Thumbnails" small (possibly cropped) images, that link to a larger copy
The ability to open URLs (and images) in a "Lightbox" so that the viewer never has to leave the page
Supports mapping styles to specific HTML tags
Option to render items within group or render groups as images (to ensure display fidelity for complex items, like items with blending mode)

Ability to set Page Color and Background Color as well as Background Images
Search Engine Optimization (SEO): title, keywords, description, author -- pulls from INDD meta data automatically, and can generate keywords automatically from the document
SWF embedding
Support for Alt text using the button name, script label, or Alt text within the Object Export Options
Supports link on Object as well as the following button actions: Go to Destination, Go to Page, Go to Anchor, Go to Next Page, Go to Previous Page, Go to First page, Go to Next State, Go to Previous State, Go to State, Play, Play from Navigation Point (movies only), Stop, Pause, Stop All
Supports Clicks, Taps, Roll Overs, Roll Offs, and Focus and Blur events
Supports Table of Contents linking and linking between pages
Ability to attached external Resources and URLs
Render text as Scalable Vector Graphics (SVG) to preserve appearance & Scalability
Form Elements: Checkboxes, Radio Buttons, List Boxes, Combo Boxes, and Text (input) Fields (single- and multi-line)
New Version 2 Features
Support for native InDesign Animation
Support for Timing of multiple animations (sequencing)
The ability to nest animation and interactivity within groups and Multi-State Objects
new Document Presets
Amazon Marketplace integration
Image Quality controls
Looking for a list of which InDesign interactive features are supported by in5? We've got you covered.
---
How does in5 compare to other InDesign export tools?
Adobe Digital Publishing Suite (DPS) is a fantastic technology introduced by Adobe in InDesign CS5.5 (and retroactively in CS5) to export interactive designs to tablet devices. in5 is similar to DPS in that it allows designers to create interactive experiences without requiring the help of a developer, but there are many cases where in5 is a better fit.
In some cases, you may find it helpful to combine in5 and DPS. For instance, perhaps you like'd to use the distribution system in DPS, but you'd also like to create animations in InDesign. DPS does not support animation directly, but you can create animation with InDesign and export it to HTML5 using InDesign. The output files can then be imported into the DPS project as a Web Content Overlay, animation and all!
---
Category
DPS
in5
Costs
DPS costs range from $395 to > $100,000, plus annual/monthly usage fees (and app store costs*).
in5 is comparatively inexpensive, and there are no annual or monthly fees.
Target user
Pricing is optimized for wide distribution (10,000+ users). This is good for the NY Times, but untenable for the single designer, small shop, or someone who needs to distribute work within their company.
in5 is priced to support even the smallest studio or solo designer.
Output
Limited. Only outputs to tablet devices and the iPhone (no other phones or desktop machines). Materials must go through the app store. App stores have their own limitations. The Apple App Store, for example, does not allow self-promotional materials.
in5 writes to HTML5, which is an open format. The output can be viewed on any device (tablet, phone, desktop) as a web page, or converted to an app using another tool (such as PhoneGap or Liquid State).
Distribution for client review

Sign up for an Adobe.com account, then
send you their email address associated with the account. You then
add their email to a distribution list. Once they've
downloaded the Adobe Content Viewer to their tablet, your project should appear with that app.

Copy the outputted files to a web server.
Send out the URL to anyone.

Number of projects you can distribute
The number of projects that you can distribute is limited by the particular license. The Single Edition, for example, is limited to a single "folio." Costs are then incurred based on the number of "subscribers."
Unlimited. No costs are incurred by having people view your content.
Supported InDesign versions
CS5 to latest. New features are added for new versions of InDesign only.
CS4 to latest. New features are added for every supported version.
Interactivity
DPS supports most of the interactive features in InDesign and adds additional interactivity through the Folio Overlay panel.
in5 supports most of the interactive features in InDesign and supports most of the features that can be added using the Folio Overlay panel as well.
Animation
DPS does not support native Animation or Timing from InDesign.
in5 supports native Animation and Timing from InDesign on most modern web browsers (details).
Monetization
DPS has a built-in mechanism to collect payments for periodicals.
in5 does not have a built-in monetization scheme. Monetization is more flexible in that it is custom, but it must be added afterwards. With addition of the Baker Framework export (in version 1.2), publications can easily be sold on Apple Newsstand.
Output Format
Closed and proprietary.
Modifications? No problem. The in5 output is open and editable HTML, CSS, and JavaScript.
*Distribution as a app involves other costs. For example, in order to distribute your project as an iPhone or iPad, you must sign up to be an iOS developer with Apple, which costs $99 to $299 per year.
Key Benefits
Tight integration with InDesign.
Maintains layout from InDesign as well as interactivity (including Folio Overlays).
No coding required.
Works on desktop computers as well as tablets and smartphones.
Easy creation of Web Apps (no need for App Store approval).
Creates files ready for use with the Baker Framework, the Amazon Marketplace, and more.
Used by these fine companies:

And Featured in: